NEWS
Special Events for S1
03/18/2016
Event 1 Diamond Wheel
Event Time: Day1-Day5 of server
You will get one lottery draw when recharge every 200 diamonds.
All rewards are diamond pack. You can claim them immediately.
After event ends, your lottery times will be cleared.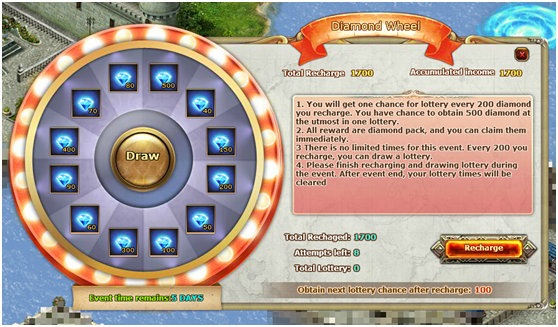 Event 2 First Recharge
Event Time: forever
First Recharge will get 50% extra diamonds+ rewards worth 1599 Diamonds!
Rewards worth 1599 Diamonds includes:
Dhow x1, Clown x1, Spirit Pot (Big) x5, Lv.8 Gold Coin Bag, Golden Soul x5, Purple Captain-Zheng He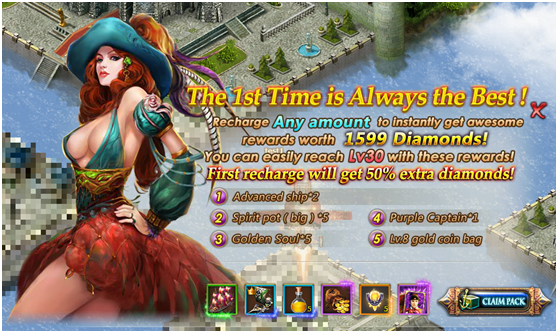 Event 3 Daily Winner
Event Time: forever

Player can get rewards by every day's first recharge.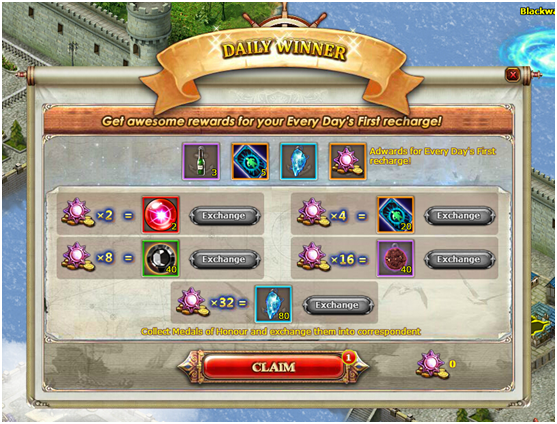 Event 4 Level Dash
Event Time:3/18-3/28
You will get rewards when reach corresponding level. VIP rewards are more valuable.
Level up every 2 level of your character after Lvl. 50, you will get great rewards.